Tuesday, November 5, 2013 6:59 pm
I had many favorite cartoons growing up as a kid… Actually, I still do!
One of my favorites was the short lived, Sheep in the Big City, created by Mo Willems. Even though his first solo show, only lasted for two seasons, Mr. Willems has many other strong credits to his name that include television shows, Codename: Kids Next Door, Sesame Street, and for those watching cartoons in the 90's, KaBlam! Mo Willems has since then, also created a line of hilarious easy reader children's book that guarantee to make you laugh. Below are some of my favorite easy reads from Mr. Mo Willems, hilarity and lessons in all.
Pigs Make Me Sneeze! is a funny tale about two friends Gerald the Elephant and Piggie, and Gerald can't stop sneezing! Gerald sneezes so much that he begins to think it's his friend Piggie that's the cause! Good thing for Doctor Cat, maybe he can help Elephant figure what is really wrong…
Quick paced, but a fun read, Pigs Make Me Sneeze! could easily become one of your favorite books. Smart because it teaches children to consider other possibilities and wise because it shows why we should not always jump to conclusions.
The Duckling Gets a Cookie!? is another easy reader about Duck and Pigeon. Duck gets a cookie with nuts, just for asking politely! Pigeon is mad because he always asks for things and never gets them. Pigeon doesn't ask very politely though. He asks to drive buses, he asks for hot dog parties, and to stay up late! But alas, nothing… Pigeon thinks ducklings get everything! Pigeon isn't very happy with Duck, until Duck gives Pigeon that same cookie and realizes that his original feelings were maybe misguided and emotionally charged. This a great book for children who are learning the positive effects of manners, kindness and possibly an eye opener for children who are dealing with youth envy either amongst siblings or friends and classmates.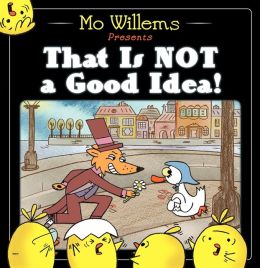 Mo Willems presents: That is NOT a Good Idea! is an amusing tale starring Hungry Fox and Plump Goose. Hungry Fox knowingly tries to trick Plump Goose into coming to his house and getting into his hot soup! With the hilarious Baby Geese as our voices of reason, they help connect and guide us through this Fox's slick trickery, and Goose's seemingly hopeful naivety. Though of course, things are not always as they seem… This is NOT a Good Idea! is a good book that could help segue into a discussion about following your gut and paying attention to the clues and signs around you. Full of thrills, drama, and dinner, This is NOT a Good Idea! By Mo Willems is a good idea and side splitting fun for young ones who want to laugh out loud when they read.
About the Author
Shaun Teamer is a creator and storyteller. He enjoys drawing, reading, animating and shooting videos. Shaun is currently a youth associate at the Kansas City Central Library and a big fan of oatmeal raisin cookies.