Post date:
Tuesday, February 15, 2022
Nobody talks trash like libraries. 
That's too bad, really. Look at the gentle back-and-forth on Twitter between Los Angeles' and Cincinnati's public libraries going into the 2022 NFL Super Bowl. Go back six and seven years, to the Kansas City Public Library's exchanges with fellow library systems in San Francisco, Toronto, and New York during Major League Baseball's playoffs and World Series. 
Libraries troll with playful irreverence, not nastiness. The intent is to amuse and engage, not anger or incite. There's invariably a literary element. 
Libraries tend, as L.A. and Cincinnati did, to express themselves through book spine poetry – a nerdy and decidedly niche art form featuring handfuls of books stacked so their titles form pithy messages. Rhyming is optional. 
Origins of the form are hard to pin down. Here at the Kansas City Public Library, we put together a how-to video and blogged about it in 2011. We think we were the first in library land to lightheartedly weaponize book spine poetry in 2014, as the hometown Royals were playing a thrilling, seven-game World Series against the San Francisco Giants. It really took off a year later, when the Royals met the Toronto Blue Jays in the American League Championship Series and then the New York Mets in the World Series – won by the Royals in a glorious five games. 
In each case, we fired the opening salvos.  Neighboring library systems – North Kansas City, Johnson County, Mid-Continent, and a number of rural libraries – gave us backup. The rival libraries fired back, and the bantering drew national and international attention.
Outlets from BuzzFeed and The Huffington Post to National Public Radio and the Canadian Broadcasting Corporation did stories or segments. Fox television sportscaster Joe Buck chuckled at the faux feuding during the 2015 World Series broadcast. 
Book spine poetry has endured in libraries' trolling on social media since then, typically revolving around big sporting events.  
(Should we be proud of that? Well … we are! The Los Angeles Public Library gave us a nice shout-out on Twitter during their promotions for this year's Super Bowl, recalling "[t]he humble post that started the sports book spine poetry tradition." It reposted our October 20, 2015, book-title arrangement, directed at the Toronto Public Library and its Blue Jays after a 14-2 romp by the Royals: Canada, atop Sorry You Lost, atop What Bluebirds Do.)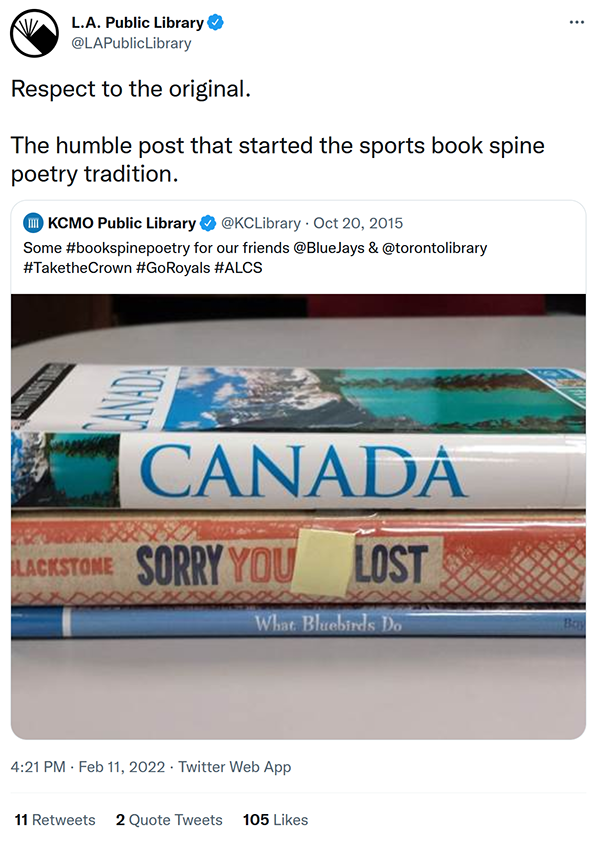 As Liesl Christman, then the Library's social media manager, told an interviewer, it was "all about getting the word out to people we normally wouldn't reach." The good-natured sniping also twisted the notion of libraries being staid, shush-yourself places. 
"We wanted to celebrate, and we wanted the community to come together," recalls Carrie Coogan, the Library's deputy director for public affairs and community engagement. "It was a fun, interesting, and engaging way to get people excited not only about the big games played but also about reading." 
The Library weighed but passed on a book spine poetry redux when the Chiefs reached the Super Bowl in 2020 and 2021.  
"It was so innovative and magical, and we had such a wonderful response," Coogan says. "We thought we could keep it fresh year after year, but we didn't want it to get old." 
Now, if the Royals make it back to the postseason this year or Patrick Mahomes and the Chiefs restake their claim to a Super Bowl berth (as ahem, they're favored to do), we'll consider anew. Picture a stack of three books by three different authors in our collection, all titled … 
Never Say Never.