It's hard to believe that it's already the end of Booketology. Our second annual Booketology tournament started with 64 literary characters from eight genres, each fighting for the title of Booketology Champion. Hundreds of you voted for your favorite characters. There were some amazing upsets: Princess Buttercup defeating Batman before finally falling in the Final 4, and Marie Curie beating out Martin Luther King Jr. for Biography champ! There were also some narrow, heartrending contests, such as when Harry Potter defeated Elizabeth Bennet by only two votes! Yesterday, it all came down to two: Harry Potter and Huck Finn. Though there was great enthusiasm for our legendary Missourian, but in the end Harry Potter was victorious, beating Mark Twain's young rebel by 13 votes. Congratulations, Mr. Potter! You have proven that J.K. Rowling's stories have a unique place in the hearts of readers. Now, we've announced the Literary Character Champion, but what about our drawing? We randomly selected one Grand Prize winner, and four runner-up winners. Congratulations to Katya Blair! You are the Booketology Grand Prize Winner. You will receive four gift certificates to the College Basketball Experience (redeemable for four adult admission tickets), and eight books, one for each of our Elite 8 winning characters! And congratulations as well to our runners-up: Claudia Franks, Glen Miles, Becky McKee, and Jessica Kendall! You all win a copy of one of our Final 4 winning books! Check out the final bracket: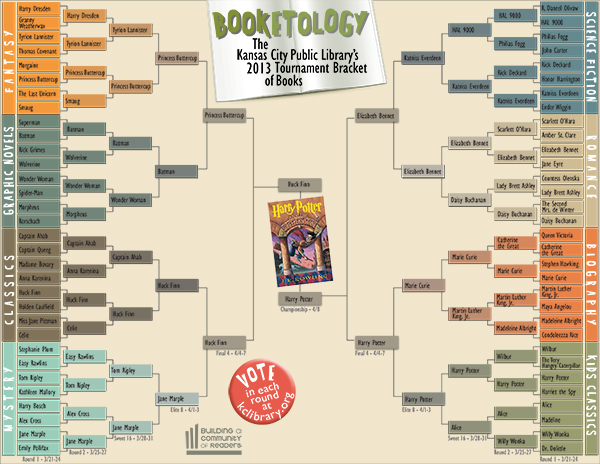 Click the image above for the larger, printable version (choose File>Print Preview to scale the bracket to fit on one page when printing)
So did you all enjoy this year's Booketology Tournament? Have some suggestions for us about next year? Let your voices be heard: Sound off in the comments, or shoot us an email. Let us know what you thought, and keep on reading!
Booketology is part of Building a Community of Readers, a campaign to transform our community by promoting a lifelong love of reading!
About the Author
Liesl Christman is the Digital Content Specialist for The Kansas City Public Library.