Post date:
Tuesday, October 27, 2020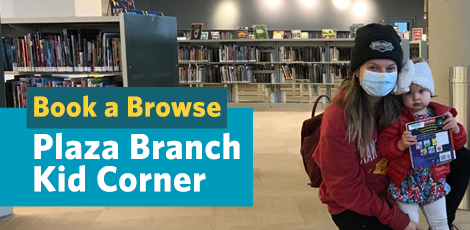 The Kansas City Public Library is piloting a new service at our Plaza location that allows families to safely browse through its collection and access computers in the Kid Corner.
"We wanted to start moving toward getting kids and families back into libraries," Plaza Youth Services Manager Julia Kingsbury says. "We chose Plaza because the Kid Corner was kind of separate from the rest of the building and there was a way to get people in without going through the main library."
The Book a Browse appointment service allows groups of up to 10 people (including infants and toddlers) to reserve a one-hour window to browse the children's collection at Plaza. "It doesn't have to be just one family, but it is limited to 10 people," Kingsbury says. "We figure if two families want to come in together, they have probably already made the decision to kind of share a pod during the (current call for) social distancing. If they want to do this together, that's fine."
No decision has been made on when or if the service will be expanded to other locations, but Kingsbury says she has been pleased with the way things are going.
"We've had almost every appointment filled up," she says. "It's been super exciting to have kids back in the Library. Over the weekend, we had this little girl who was, like, 'Look at the all the books I found!' She found her favorite series, and she was just bouncing with excitement."
Visit KCLibrary.org/browse to learn more about the Book a Browse service or to schedule an appointment.