Have a delightfully spirited Halloween season with a monstrously good mashup of scary story recommendations, frightfully fun films, and other creepily cool Library resources.
Jump to a section:
Youth Ghost Story Contest Winners
This year's Youth Ghost Story Contest was a partnership with Kansas City Public Library; Kansas City, Kansas, Public Library; and Kansas City Repertory Theatre. The 2022 terror title was awarded to ten-year-old Addison Achberger, who delivered a delightfully goosebumpy tale of an eerie and bloody encounter in her story "Into the Night," which was selected from some three dozen submissions from youngsters ages 10-14. Part of the reward for Addison's ghoulish work: seeing it performed at the KC Rep's third annual Ghost Light performance that took place October 22. It will also be featured in a video on the Library's youth YouTube channel.
Three entrants earned honorable mention:  
 
    Rory, age 11, for "The Cursed Grave"
    Isaac, 11, for "The Legend of Alek and the Golden Coin"
    James, 11, for "Doors" 
Read their stories... IF YOU DARE... 
 
DON'T FEAR THE READER
Our librarians have used their dark literary magic to conjure a cauldron  of terror-inducing titles and quirky, spooktacular reads to get you in an appropriately fearsome mood for Halloween. 
More lists:
 
Movies: Screaming, Streaming, and Screenings
Scary movies are a Halloween tradition. The Library offers a number of ways you can satisfy your horror habits.
Sunday Cinema at the Central Film Vault: Halloween II
Sunday, October 30, 2022  |  2 - 4 p.m.
Central Library, 14 W. 10th St.
The thrilling, bloody sequel to John Carpenter's classic masterpiece picks up directly after the first film; Halloween II (1981; R) follows tenacious survivor Laurie Strode (Jamie Lee Curtis) as she tries to escape Michael Myers' unstoppable rampage on Halloween night, 1978.
Browse our catalog
for devilishly delightful DVD titles that you can sink your teeth into.
Our streaming video service
Kanopy
gives you instant access to cinematic catacombs full of films ranging from contemporary horror flicks like
Hereditary
and
The Witch
to classics such as
Nosferatu
and
House on Haunted Hill
.

MAcabre Music of the Night (or any time)
Enjoy spirited tunes with a collection of digital horror soundtracks available to stream and download from hoopla.
hoopla horror soundtracks  |  About hoopla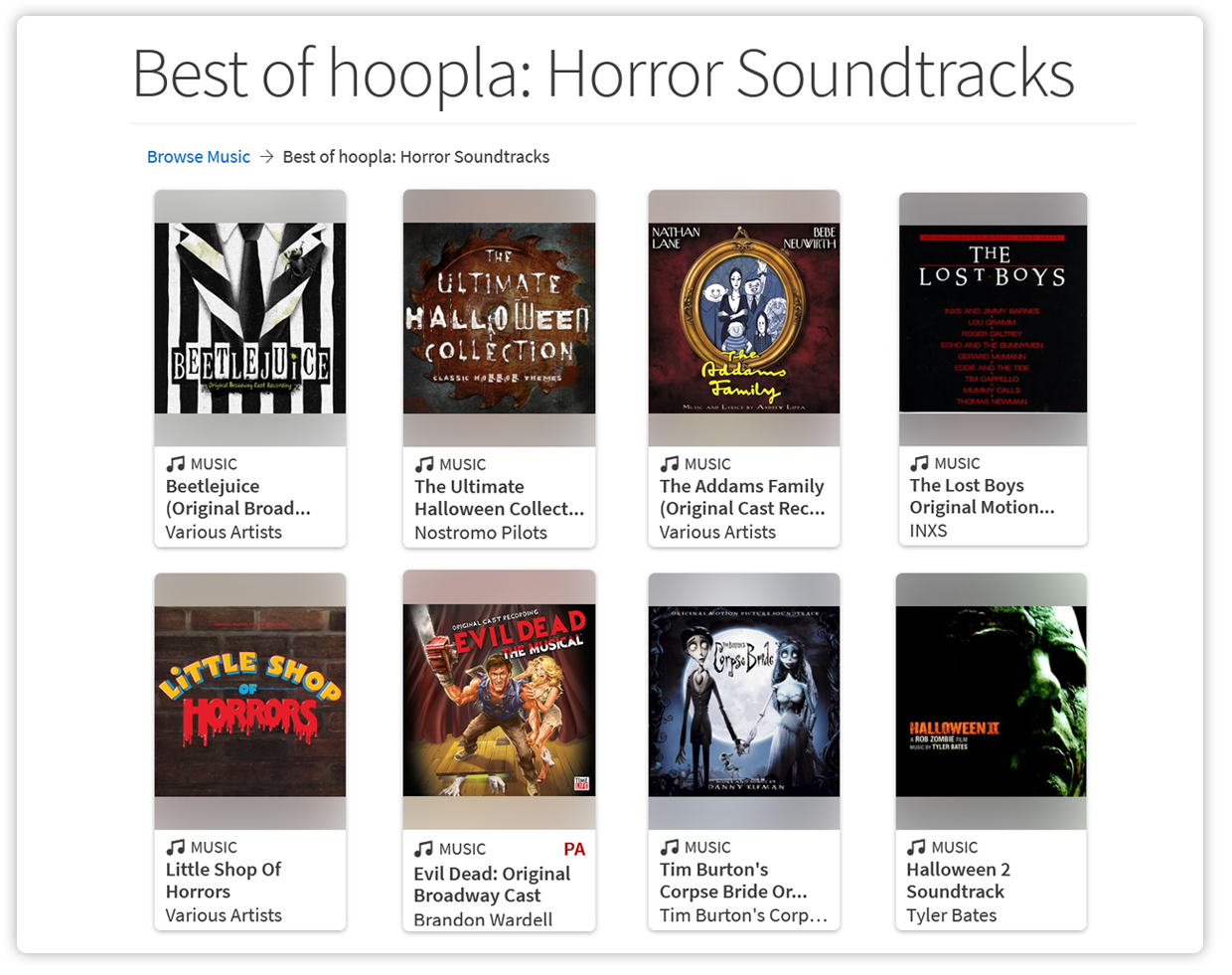 Halloween Happenings
Attend one of the Library's costume parties, games, or creepy creative activities!
Teen Halloween Hangout
Friday, October 28, 2022  |  3 - 4:45pm
Central Library, 14 W. 10th St.  |  Teen Room
Drop by the teen room for some early Halloween weekend festivities, including switch games, Jackbox games, make-your-own boba drinks, crafts, and of course- CANDY! Show up in a costume for double the fun.
Halloween Costume Party
Saturday, October 29, 2022  |  10 a.m. - Noon
Trails West Branch, 11401 East 23rd St., Independence, MO
Join us for a youth Halloween Costume Party! We will have a Halloween story, spooky games, a craft, and a sweet treat.
Fall Fun! Halloween BooBash
Friday, October 28, 2022  |  5:30 - 7:30 p.m.
Plaza Branch, 4801 Main St.
Enjoy spooky, fun, and indoor-safe trick-or-treating at the Plaza Branch's Kid Corner! Come in costume and check out the photo booths, play games, make crafts – and, of course, collect candy while it lasts. Recommended for ages 3 and up.