Post date:
Friday, December 17, 2021
"What's your KC Q" is a joint project of the Kansas City Public Library and The Kansas City Star. Readers submit questions, the public votes on which questions to answer, and our team of librarians and reporters dig deep to uncover the answers.
Have a question you want to ask? Submit it now »
---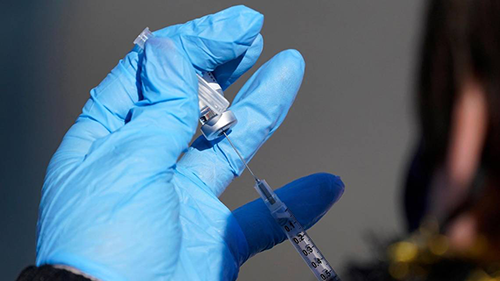 Kansas City is in the midst of yet another wave of COVID-19 cases, with hospitalizations on the rise and a new variant to contend with.
At the start of the pandemic, The Star worked with the Kansas City Public Library as part of our KCQ project to listen to and answer your coronavirus questions about everything from safety to mask wearing to access to testing.
With rising cases, omicron, expanded vaccine eligibility and a coming holiday, we wanted to gather up some of the reporting we've been doing to answer your questions again.
OMICRON
What do we know about omicron so far?

It's still early, but early research shows the variant is extremely contagious. The severity of the illness it causes is still being studied. Existing protective measures are showing early signs of being effective with the variant.
Has omicron arrived in Missouri and Kansas yet?

Do the vaccines we have now work against omicron?

What should I do to protect against omicron?

VACCINES
When should I get my booster shot?

That depends on when you got your initial dose or doses. Those that received the Pfizer or Moderna vaccines can get the booster six months after the second dose. Those that received the single Johnson and Johnson vaccine can receive the booster two months after their dose.
Who can get a booster?

CDC guidance now says anyone 16 or over can get a booster shot.
When do boosters offer maximum protection?

What about booster side effects?

Side effects are normal after a booster shot, but definitely not guaranteed. Fever, headache, fatigue and arm pain at the injection site have been the most commonly reported booster side effects. Check out this guide for more about what you could expect.
How safe is the vaccine for kids?

The vaccines are safe for children in the 5 to 11 age group recently approved for vaccination. Clinical trials were conducted with thousands of children, and no serious safety concerns were identified. Children may have some side effects from the vaccination similar to what adults experienced and similar to side effects children might have after a routine vaccination. The side effects are normal signs the body is building protection.
Why does my child need a vaccine?

Children are as likely to be infected with COVID-19 as adults and can have both short and long-term health complications. As of October, children ages 5 to 11 have experienced more than 8,300 COVID-19 related hospitalizations. Getting a COVID-19 vaccine can help protect not only those 5 and older, but siblings and family members who aren't eligible for vaccinations or at a higher risk of getting sick if they are infected.
What if I can't get to a vaccination clinic?

What if I don't have insurance?

The COVID-19 vaccines don't cost any money regardless of insurance or immigration status. Some forms may ask about insurance, but typically that is for data collection and not a reflection of any insurance requirement.
The Kansas City Public Library partnered earlier this year with KC CARE Health Center to provide vaccinations and boosters to all who are eligible. Those clinics will continue through at least February, Tuesday through Thursday. There is no insurance information required. Spanish-language translators are available at each clinic.
How many people are vaccinated here?

52% of Missourians are fully vaccinated, and 50% of Kansans are fully vaccinated.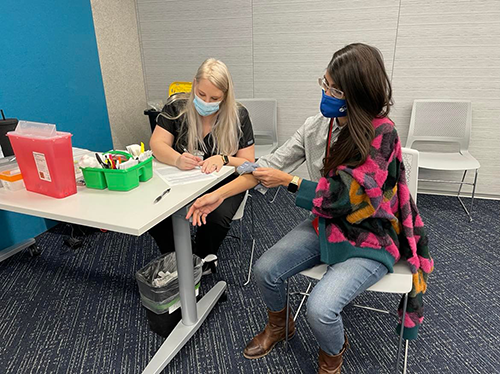 Kansas City Public Library has partnered with KC Care Clinic to provide vaccinations at select library locations.
TESTING
Which kind of test is best?

Health officials recommend PCR tests for the most reliable results, but at home tests can be a helpful precautionary measure to see if you're contagious. At home tests are generally effective at detecting the delta variant. You can check out this guide for more information on the difference.
Delta vs. omicron?

At least for now, delta is affecting Kansas City more than omicron.
One more thing: the flu

What other COVID-19 questions do you have? Let us know at kcq@kcstar.com or with the form below.
Submit a Question
Do you want to ask a question for a future voting round? Kansas City Star reporters and Kansas City Public Library researchers will investigate the question and explain how we got the answer. Enter it below to get started.