'Moonstruck' vs 'Peggy Sue Got Married'
Tuesday, May 31, 2022 - 12:31pm
Doors open: 8 p.m. • Screening: 8:45 p.m.
 
The Library's annual summer
Off the Wall Film Series
returns to the Central Library's Rooftop Terrace with a fresh lineup of FREE outdoor movies!
This year, prepare yourself for CAGE MATCH, a monthly pairing of two Nicolas Cage movies engaged in epic cinematic combat. Which films will be screened? That's to be decided by YOU, the voting public.
Moonstruck (1987, PG, 1h 42 min) vs Peggy Sue Got Married (1986, PG-13, 1h 43 min) 
WINNER - June 17:
Moonstruck (1987, PG, 1h 42 min)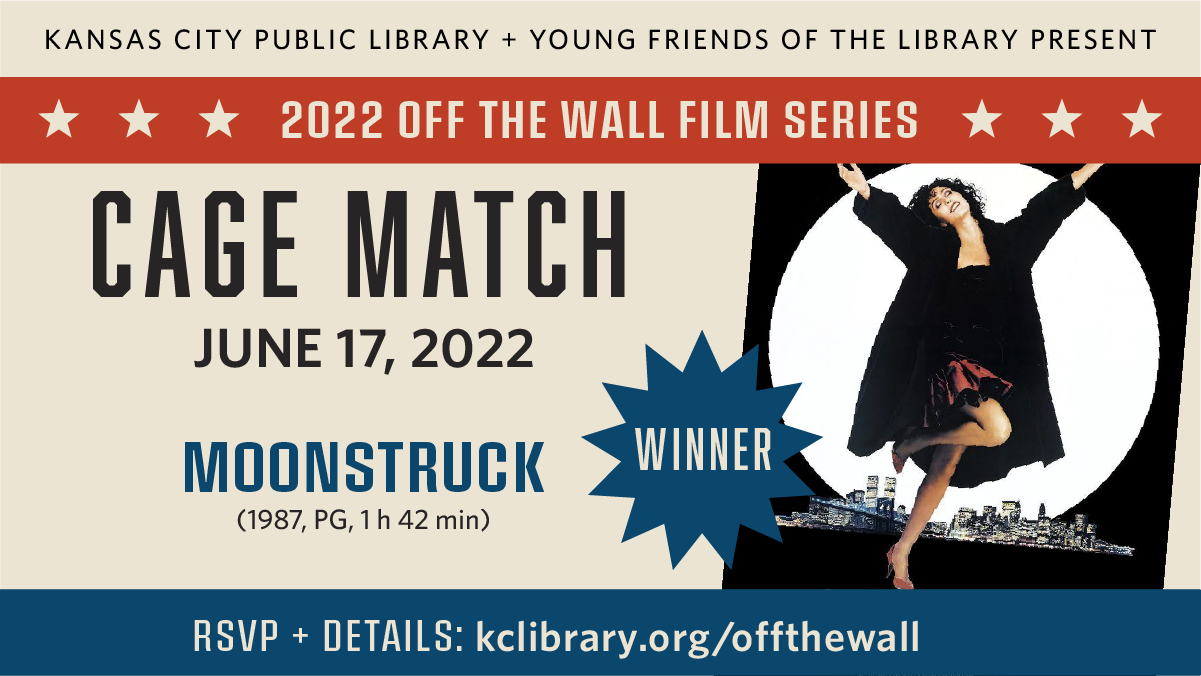 2022 Off the Wall Films
Details, voting, and RSVP: kclibrary.org/offthewall
Co-presented by the Kansas City Public Library and Young Friends of the Kansas City Public Library.
Attending Off the Wall
Films will be shown on the Rooftop Terrace (5th Floor) of the Central Library, 14. West 10th St., KCMO. 

Bring your own seating, blankets, or folding chairs. (Additional chairs or other seating not provided) 

Bring your own food, snacks, and non-alcoholic beverages. No glass containers, please. 

Doors open at 8 p.m. (Central Library closes at 5 p.m. on Fridays, but will reopen for Off the Wall events.) 

Screenings begin at dusk (approximately 8:45 p.m.)  

Parking: Enter the Library District parking garage via Baltimore Ave. Bring your parking ticket to the event for complimentary validation. 

Transit options: take KC Streetcar to the Library stop at 9th / Main or use Ride KC bus routes. 

In case of bad weather, the event will be canceled; watch event pages or Library social media for updates.